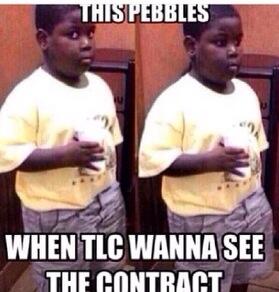 Last night VH1 aired the TLC biopic, CrazySexyCool and I hopped on twitter because I knew Black Twitter would not disappoint with commentary.  The real story of the night was dragging of Pebbles…..y'all I was not ready, and I ended up going to bed ridiculously late as I could not get off my TL for laughing so hard!
https://twitter.com/GuessWhatKimmy/status/392471673078681601
I hollered!!!  There are a few people who fault TLC for not reading their contract, and feel like Pebbles was justified.  To you three people have a seat, just because you CAN do someone dirty, doesn't mean that you should.
Related articles